Rich features, user-friendly design!
Cadrim projection clock with 2 separate alarm wakes you up first with FM radio, then later your kids. Just press the big button to get a snooze. Temperature and humidity are helpful to your daily dress. Whenever you want to know the time, just take a look on the large screen or high definition projection. During your sleep, you can get your phone recharged.

What a brilliant gift!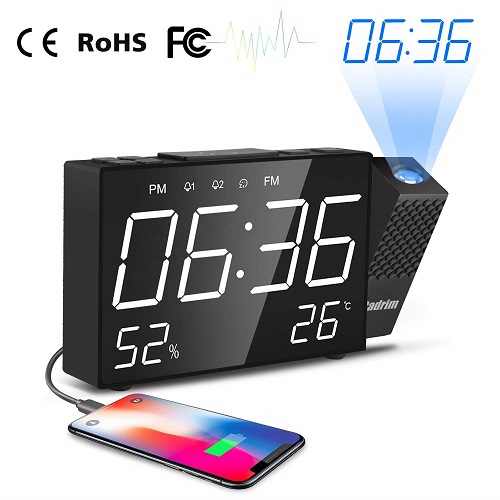 Other Function:
Sleep Timer Function
If you want to fall asleep with FM radio, you can set timer function. Select 90-75-60-45-30-15-10-5 minutes of listening time. The radio will turn off automatically.
Brightness of the screen
In the normal use state, press the "BRIGHT" button, the brightness of the screen will be switched in turn: bright, dim, off.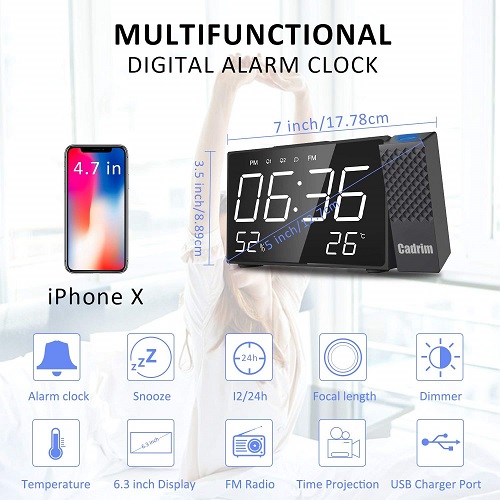 Temperature / humidity
1. Temperature
Press the "° C / ° F" button to set the temperature mode "° C / ° F" . Temperature range: -20 ° C to 60 ° C.
2. Moisture
Humidity range: 10% RH-99% RH, humidity accuracy: 5% RH
Snooze function
After activating the alarm, it will sound for 5 minutes and if there is no operation, it will automatically exit and return to the time of day. When the alarm starts, press the "SNOOZE" button to stop the alarm. Operation up to 12 times.
Press any button other than the "SNOOZE" key to stop the alarm and exit the time state.
Package Included:
1 Alarm
1 USB cable
1 CR2025 Battery
Note: If you have any questions, do not hesitate to ask us for help.